The Preface:
James: I've been worrying about my mind, Stanley.
Stanley: Oh no. For what reason?
James: I don't think it has the power I once thought it did.
Stanley: What do you mean?
James: Well, I used to think my mind was an objective arbiter – that somehow, after listening to an argument, I could determine what was absolutely true or absolutely false.
Stanley: You've grown out of this?
James: Indeed. How could it be that my mind could know anything about "absolute" reality? You have to take into context our position as humans. We're pitiful little creatures who have become adept at navigating our physical world. Our brains have developed to merely aid our survival. Human survival does not depend on black-and-white judgments, but instead accurate probabilities.
If I am looking at this chair, to ask "Does this chair actually exist in reality?" is pointless. All we need to know is, "To the best of my knowledge, does this chair exist, and will it break if I try to use it?".
After all, how could it be that a creature could ever evolve the capacity to know "absolute" reality anyway? Yes, the complex circuitry in our brains creates incredibly powerful computing-capacity. But how can one make the jump from electric signals in the brain to ultimate arbiter of truth?
Put it this way: our senses give us lots of data about the external world, but our data-set is always changing and expanding. Just because we've seen a consistent pattern over a certain amount of time doesn't mean we then "know" "the truth". Finite data input can never result in perfect knowledge. I am homo sapien, not homo angelicus.
Stanley: I see your point. Thus you would conclude: with such limitations, it is impossible to know anything about reality with complete certainty.
James: Correct. To think otherwise seems presumptuous.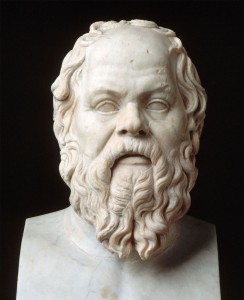 Stanley: Such skepticism forces you to keep an open mind, does it not?
James: Of course. If you can't know anything with certainty, one is always open to the idea of being wrong. This results in intellectual humility.
Stanley: Allow me, then, to ask you a few questions. If your argument withstands further skepticism, I, too, will conclude that we are inescapably bound by our finite thinking.
James: By all means.
The Argument:
Stanley: You mentioned this chair earlier. We both believe it exists, but you'd say we can not know, right?
James: Correct. I sense that it exists, but I do not know my senses are accurate.
Stanley: Interesting. But you sense it?
James: My eyes perceive it. But again, I can't know if it is "objectively" there. It could be a hallucination.
Stanley: You've missed my point. Is it true that you have a sensory experience of a chair?
James: Yes, as I have said three times.
Stanley: Is it absolutely, objectively true that you have a sensory experience of a chair?
James: Oh, I see where you are going. Well no, I can't know such a thing. That presupposes all sorts of things I can't know.
Stanley: Then let's go one step further: do you have sensory experience at all?
James: I think so, but I don't know. I don't even know "I" exist.
Stanley: We might debate that point, but let's go one more step. Does perception exist?
James: I don't know what "exist" means.
Stanley: Fair enough. How about this: in reality, is there such a thing as perception? Regardless of if perception is accurate, and regardless of whether or not "you" exist, tell me, is perception a real phenomenon?
James: Well…
Stanley: Even if nobody else experiences it, and you can't ever know if your communication of such a phenomenon is possible, think to yourself: does it happen?
James: Yes, I suppose it does.
Stanley: Are you sure?
James: Well, yes, perception is happening to me right now.
Stanley: Are you absolutely certain?
James: That perception is happening? Yes.
Stanley: So, you're saying that you know something is true about reality with perfect certainty?
James: Well… I don't know if I would put it that way.
Stanley: If it is the case that perception happens, and you know that perception happens (as you have a direct insight into whether or not it does), it must be the case that perception happens "in reality". If that is true, then you must know something is true about reality.
James: I can't really conclude otherwise. The only way to remain skeptical is to doubt whether or not perception exists, and I can not deny that I experience perception.
Stanley: Then perhaps the worry about your mind was misplaced. Your mind must possess the capacity to discern absolute truth from absolute falsehood, as that is what you have just done. This seems like nothing to worry about!
James: But how can my mind do such a thing?
Stanley: I don't know. That is square two. We were just dealing with square one. Just because we don't know the how at this moment, doesn't mean it doesn't happen. Perhaps we'll have a future conversation about it.
James: I hope so.
Stanley: There are just a couple things I would like to suggest, in conclusion.
James: Please do.
Stanley: There is no reason to believe we can only discover one truth – that perception is a real phenomenon. All we have to do is deeply analyze why it's the case we can know things are true or false with certainty. In fact, we might even be able to discover a technique, if you will, for knowing. What conclusions can be known? I'm not sure what the total amount is, but I know many.
But that is a conversation for another time.